The development momentum of UVC LED in home appliances is strong, Domestic home appliance brands such as Haier, Xiaomi and Yunmi have launched new products of UVC LED home appliances in the first half of 2021.
Judging from the products that have been launched, UVC LED applications are mainly in washing machines, air purifiers, air conditioners and refrigerators, and the application of water purifiers is still rare.
It is understood that the UVC LED sterilization modules currently installed in water dispensers are mainly divided into two types: static water sterilization and over-flow water sterilization.
Static water sterilization module: The sterilization time is long, and it needs to be used with a water storage tank. However, the water in the storage tank is not fresh enough, and there is also the problem of secondary pollution of microorganisms in the outlet pipeline.
Over-flow water sterilization module: It belongs to instantaneous sterilization and does not need to be equipped with a water storage tank. It can be installed at the position of the water outlet of the water dispenser, which can effectively solve the problems of poor taste of water storage and secondary pollution of microorganisms. It is the mainstream trend of water dispenser sterilization in the future.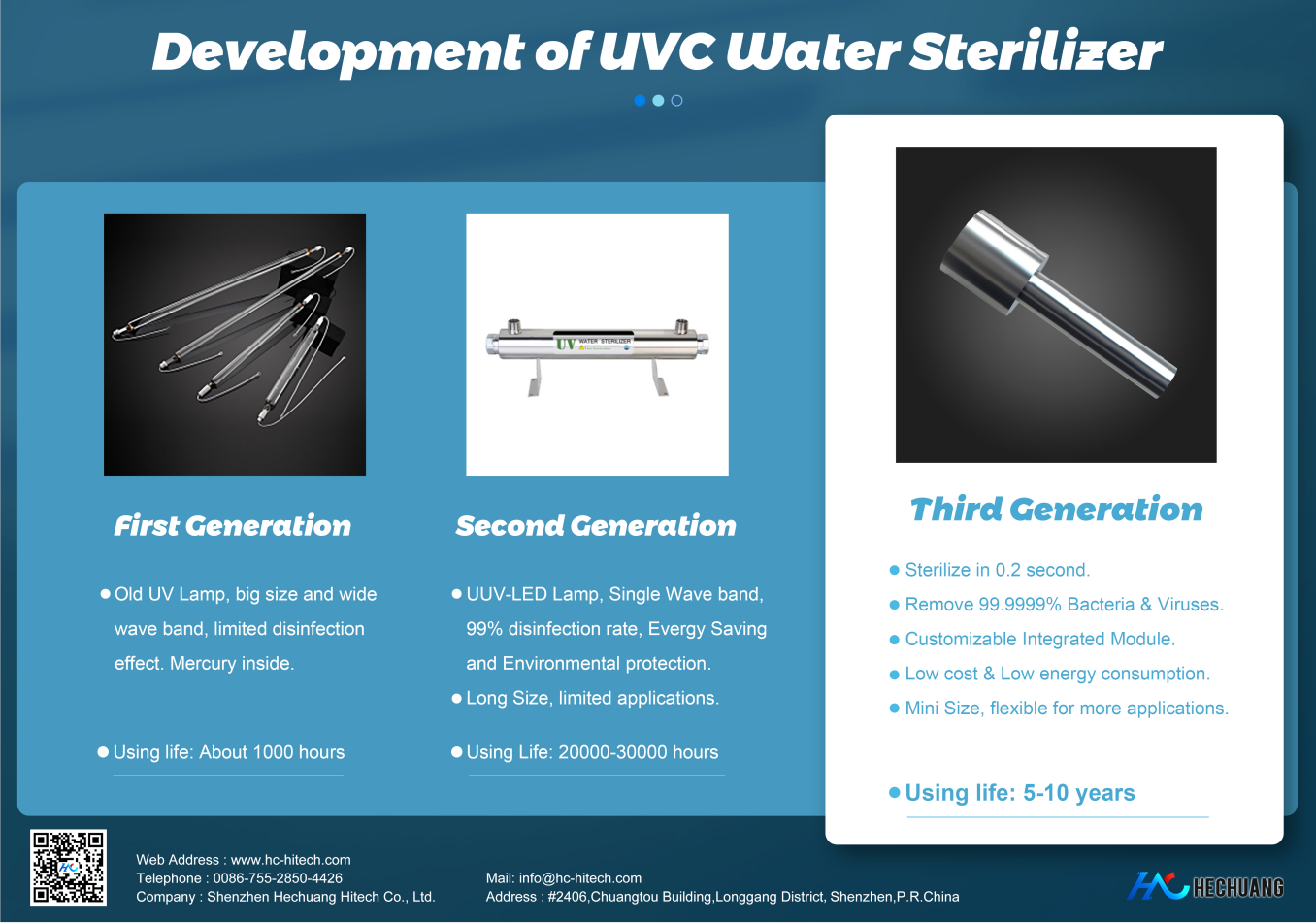 Angel, an expert in the field of clean drinking water, believes that drinking water safety will become the focus of public attention in the next 3-5 years, especially driven by the outbreak of the epidemic, countries and regions such as Europe, the United States, and Japan have paid unprecedented attention to drinking water safety. It is foreseeable that in the future, UVC LED water purifiers will have a larger market at home and abroad.
In addition, according to the analysis of UVC LED industry expert Jiang Zhou, in the past year, the demand for public water dispensers and household sterilization faucets has increased.
Under the stimulation, over-flow water sterilization ushered in a period of vigorous development, and the overall performance of the product also rose to a new level.
All in all, the market prospect of UVC LED water purification application is very impressive
Pure water, Live better!
For more information, inquiries or to book an interview please Contact:
Shenzhen Hechuang Hitech CO., LTD.  
info@hc-hitech.com
Toll Free +86-755 2850 4426
Shenzhen Hechuang Hitech CO., LTD. is a National High-tech Enterprise, which has won a number of invention patent technology awards. We focuses on the Research, Development, Production and Application of UVC-LED Technology. It adopts innovative technologies of revolutionary optics and fluid science, which can kill bacteria and viruses in 0.2 seconds, with a killing rate of 99.9999%. Hechuang Hitech provides safer, more efficient and more humanized sterilization module design for Water Air and Surface Disinfection products.
For more information visit www.hc-hitech.com