Shenzhen Hechuang Technology provides the world's leading ultraviolet disinfection system to ensure the safety of household water disinfection systems and prevent harmful microorganisms from polluting water, including chlorine-resistant microorganisms such as influenza virus and heat-resistant coliform bacteria.
UVC disinfection is the fastest, safest and most effective physical disinfection method. It does not produce harmful disinfection by-products associated with chemical disinfection. And has the advantage of not changing the taste, color and smell of the water.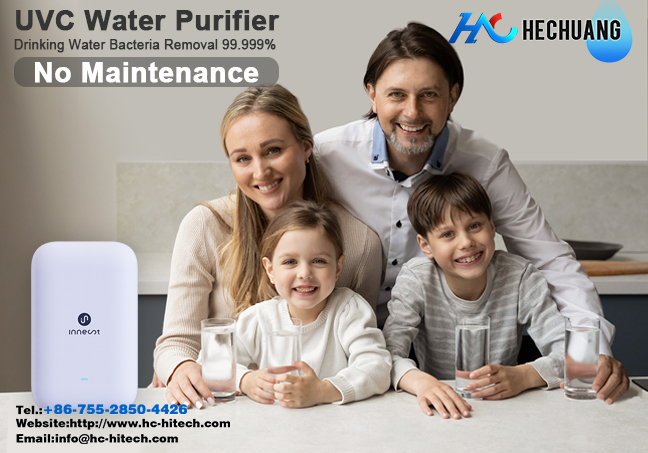 Our products have the latest fluid UVC sterilization technology in the world, and have obtained technical patents. It has the characteristics of fast sterilization speed, small size, low power consumption, long life and maintenance-free. Various home appliances such as coffee machines, water purifiers, air conditioners, washing machines, and smart toilets can be installed.
Pure water, Live better!
For more information, inquiries or to book an interview please Contact:
Shenzhen Hechuang Hitech CO., LTD.  
info@hc-hitech.com
Toll Free +86-755 2850 4426
Shenzhen Hechuang Hitech CO., LTD. is a National High-tech Enterprise, which has won a number of invention patent technology awards. We focuses on the Research, Development, Production and Application of UVC-LED Technology. It adopts innovative technologies of revolutionary optics and fluid science, which can kill bacteria and viruses in 0.2 seconds, with a killing rate of 99.9999%. Hechuang Hitech provides safer, more efficient and more humanized sterilization module design for Water Air and Surface Disinfection products.